looking for

Agneselle colorblock in LIMEAgneselle Fendi top in Rum RaisinBonitochico Chiffon V Back DressWhoodesiree Ruffled Loophole Tunic in Cream
feedback link (+3/-0)
<<<<Selling these & More.>>>>
A Miss Selfridge inspired piece which comes in a darker shade of denim!

Unfortunately, this piece only fits really tiny petite girls.
This super fitting dress is so sexy and stylishly chic, was featured on many female magazines for being so en pointe with this season's denim+zip craze.
Show off your svelte figure in this number at parties : )

$32mailed$22 mailed !!
Nicole Satin Ruffled Tube top in Black

Ruched at waist area.
Flatters the bust are very well and also gives a definite streamline at the waist!

ours @ $18 MAILED!

Stripe Chic Top
over lapping shoulder strap design
pit to pit:13"
smocked back
length:25.5"
fits uk6-10
$18 MAILED

Vintage Wash Denim Vest


$22 mailed!

Oversized Tee (Green)


$10 mailed!

Metallic studded Asymmetrical vest
PTP 16" and up
Length down/ 28.5" (long area)
fits UK 6 to 12
made of cotton
sewn on studs, wont drop easily
Long in the front, short at the back
non functional pockets
$24 mailed!


Suspender
$18 mailed!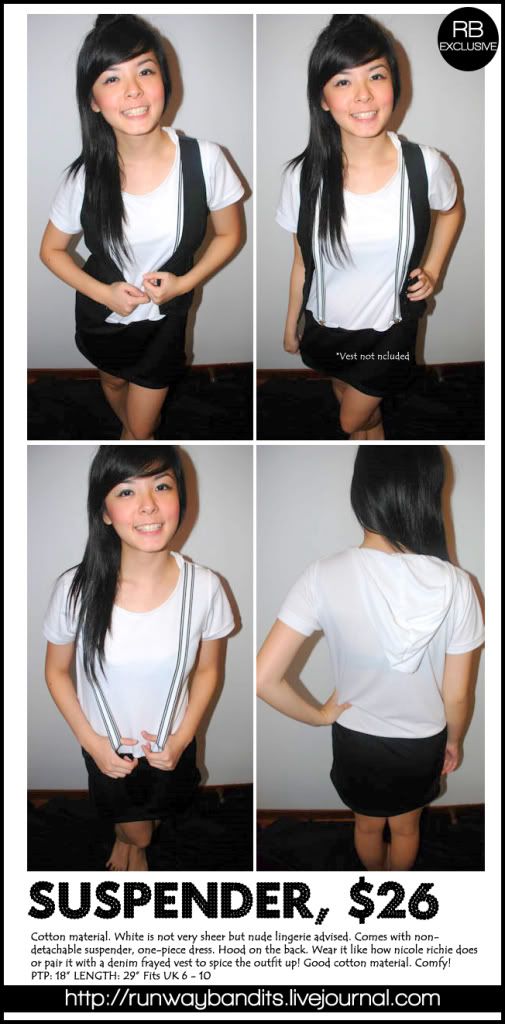 Fab Satin SHorts
Size S

At $20 mailed







Gold Leaves Filigree


$4 mailed!




Pearl Dual Necklace

in GOLD or WHITE
$9 mailed!


Keyhole Leggings
Thick woolen-cotton material, a tone darker,
very comfortable
Medium weight opaque leggings for jus $8
$6 for immed payment